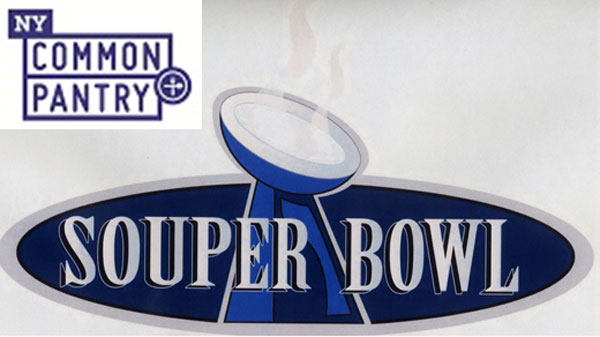 The final pass has been made, the final point has been scored … New York Common Pantry's 2015 SOUP-er Bowl has come to an end.   Tremendous thanks to all of the schools and organizations that participated in this year's collection.  We are so grateful to be providing food items that keep our Pantry Members' stomachs full and their bodies warm, especially during this very cold winter.
We are excited to announce that, this year's SOUP-er Bowl resulted in the collection of 19,678 items.  A special congratulations goes out to this year's SOUP-er Bowl champion.  It's a THREE-PEAT: The Buckley School wins again!!!  Thanks to the incredible generosity of the Buckley community, the school collected 10,000 items!  The pantry is overflowing with cans and soup and boxes of pasta thanks to this incredible score.  Fantastic job, Buckley!
With a very impressive collection of 3,087 items, our second place winner is St. Bernard's!  Our rookie team, Hewitt, is our third place winner with a collection of 2,896 items—incredible!
Additional thanks to all of our collecting teams:  Spence, Horace Mann, Trevor, East Side Middle School, Temple Emanu-El Nursery School, East Side School for Social Action and Children's Aid Society for participating in the 2015 SOUP-er Bowl!
For more information about the SOUP-er Bowl, or if you would like to participate in additional food drives throughout the year, please contact Jen Winter at 917-720-9710 or jwinter@nycommonpantry.org.