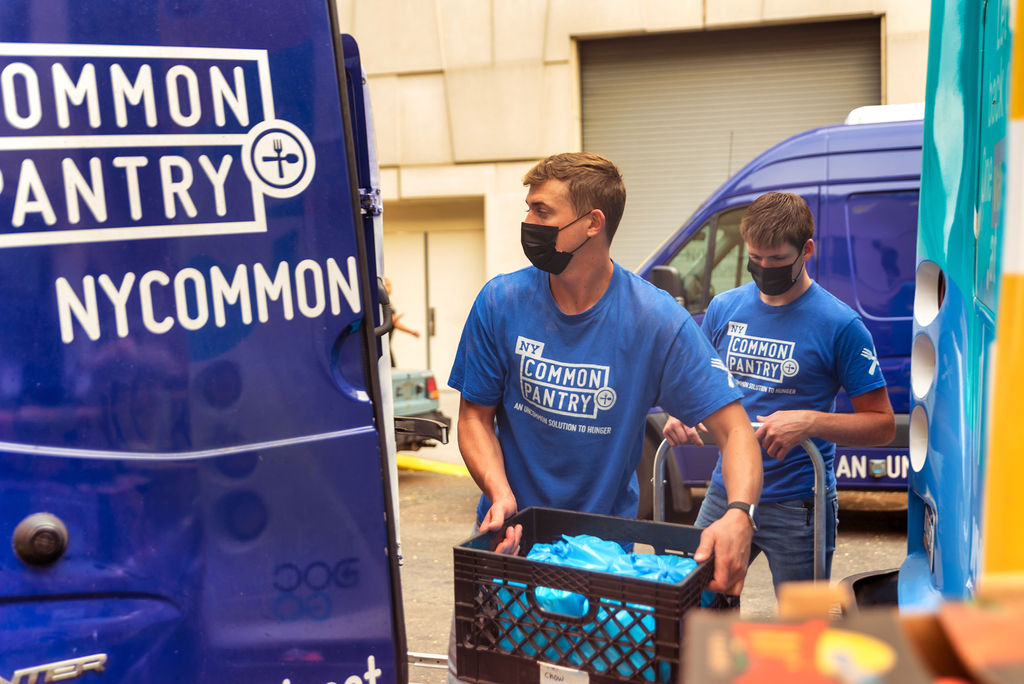 NYCP's food rescue program accepts and picks up perfectly good food from a growing number of restaurants, caterers, food markets, supermarkets and events that would otherwise be thrown away. This food helps NYCP with the more than 8 million meals it distributes annually to the over 2 million New Yorkers that are food insecure.* Over forty percent of food is wasted each year in our city and country, food that ends up in garbage cans, dumpsters and contributing to climate change due to the release of methane from landfills. Despite that, food waste, like food insecurity, has a solution. NYCP's food rescue program minimizes food waste AND food insecurity by distributing the food to hungry New Yorkers through our Hot Meals, Choice Pantry, Mobile Pantry and Brown Bag programs. While NYCP can handle large donations, smaller donations are also accepted and can often be distributed immediately and/or repurposed by our industrious and creative cook staff. By accepting food donations, NYCP can help food businesses minimize food waste and the impact to the environment, and also help provide tax relief.
*IN FY21 NYCP is slated to distribute over 8 million meals. During the COVID-19 pandemic food insecurity in NYC rose from 1.2 to over 2 million, according to NYC's Office of Food Policy.
We offer donation pick-ups by our drivers, or you can drop off your donations at our locations.
Over 70% of the food we provide comes from donations made from donors like you!
Do you operate a food-related business or regularly have food available to donate?
Schedule a Recurring Pick Up or Start a Food Rescue Partnership
TYPES OF DONATIONS ACCEPTED
Shelf-Stable/Non Perishable Foods
Fresh Produce (Fruits & Vegetables)
Prepared Foods
REASONS TO DONATE
Help feed New Yorkers in need
Free up space at your location
Avoid food waste while fighting hunger
No legal liability to donate

WAYS TO DONATE:
East Harlem Pantry
Our East Harlem Pantry office is open for donations Monday through Saturday from 9:00am to 4:00pm or Sundays from 2:00pm to 3:30pm. On Weekdays, you can bring your donation to the service desk/tent outside located at 8 East 109th Street, New York, NY 10029 (between Madison and 5th Ave). On Weekends, or after normal service hours, please ring the doorbell by the main entrance. A team member will assist in taking you donation and will provide you with a receipt!
Bronx Pantry
Our Bronx Pantry office is open for donations Tuesday through Friday from 9:00am to 1:00pm. You can bring your donation to door or the service desk/tent outside located at 1290 Hoe Avenue,Bronx, NY 10459.
We encourage you to notify us at least 24 hours in advance of your donation, when possible.
You can schedule your sandwich drop-off donation through this form.

Hours and Locations for Donation Drop-Offs:
Choice Pantry Manhattan & Hot Meals Program
8 East 109th Street
New York, NY 10029
(Shelf-Stable Food Items, Fresh Produce, Sandwiches)
Monday – Saturday 9:30AM to 3:30PM
Choice Pantry Bronx
1290 Hoe Avenue
Bronx, NY 10459
(Shelf-Stable Food Items and Fresh Produce only)
Tuesday – Friday 9:30AM to 1:00PM


Tools and Resources