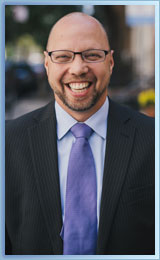 Serving as Executive Director of New York Common Pantry, Stephen Grimaldi works with senior staff and alongside the Board of Directors to develop programming that not only reduces hunger and poverty and increases nutrition outcomes for those the Common Pantry serves, but also promotes dignity and maximizes self-sufficiency using holistic and comprehensive approaches. As the Executive Director, Stephen is responsible for implementing policies and procedures and coordinating all fundraising activity to promote diversification and innovation. He represents the Pantry at the city, state and national level on issues that impact the people it serves, and was elected to the Food Bank for New York City's Strategy Council.
Previously, Stephen was the Deputy Executive Director of Urban Pathways, where his duties included promoting and maintaining quality programming, supervising agency-wide operations, and fundraising. He also served Lenox Hill Neighborhood House as the Shelter Director of its Park Avenue Women's Shelter and on its Homeless Outreach Team. Earlier in his career Stephen was the Social Services Director of a large housing organization in Brooklyn.
Stephen Grimaldi received an M.S.W. from Hunter College School of Social Work and is a Licensed Master Social Worker (LMSW). He has completed all but his dissertation on his Ph.D. in Social Welfare at the CUNY Graduate Center.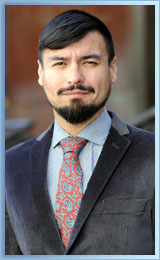 Daniel Reyes is the Deputy Executive Director. He has been with New York Common Pantry since 2003. Daniel oversees procurement and relationship development with local farmers and other food providers, and set-up and maintenance of all programs. The latter role includes resource acquisition practices and expectations for Help 365 and Project Dignity case management teams, curriculum development and evaluation processes for Nutrition Education programs, procedures and protocols for Choice Pantry operations, including the web-based menu ordering system that allows pantry participants to order at the Common Pantry or from home. Daniel represents the Common Pantry on the Centers for Community and Academic Research Partnerships (CCARP) Partnership Board; the Partnership for a Healthier NYC Manhattan Coalition; Go Green East Harlem Steering Committee; the Communities IMPACT Diabetes Center steering committee; and the New York Junior League Community Advisory Council. He also advises on program development, evaluation and community-engaged research projects with the Mount Sinai School of Medicine; CONDUITS: Institutes for Translational Sciences; Manhattan Borough President's Office; and Vanderbilt University.
Reyes started his professional career as a high school teacher before transitioning into the social service sector. Prior to the Common Pantry, he worked in other community based organizations managing programs in supportive housing, youth development, and family services. He is a graduate of the University of St. Thomas and holds a graduate degree from Roosevelt University.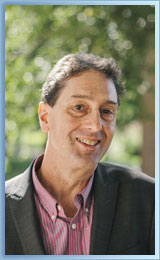 Neill Bogan serves New York Common Pantry as Senior Director of Development and Communications. In that capacity he supports the Board and Executive Director in setting and carrying out strategies to sustain the Pantry's programs and to promote public awareness of their impact. He collaborates closely with program staff and directs the Development Department with oversight of grants and direct mail solicitations, special events, publications, and web and social media outreach.
Prior to joining the Common Pantry, Neill served as Director of Development and Communications at the Kingsbridge Heights Community Center in the Bronx and as Assistant Development Director for The Children's Village in Dobbs Ferry, NY. Earlier he pursued a successful career in the arts, serving as writer and producer on projects seen around the U.S. and overseas and winning both Obie and Gold Record awards.