The Help 365 office will be open from 2:00 pm – 6:00 pm on the following days*:
Christmas: Tuesday, December 25th and Wednesday, December 26th
New Year's Eve: Monday, December 31st
New Year's Day: Tuesday, January 1st
* Choice Pantry and Hot Meals will not be in operation on the dates above. 
Breakfast will be available Monday, December 24, Thursday, December 27 and Friday, December 28 from 8:00 am – 9:30 am. Dinner on December 24th will be served from 2:30PM-4PM.  Dinner will be available Friday, December 28 from 4:30 pm – 6:00 pm.
Choice Pantry will not be in operation from December 26 to January 5. It will reopen January 9.
Hygiene Services will not be in operation From December 24th-January 1st.
Breakfast will be available Wednesday, January 2 to Friday, January 4 from 8:00 am – 9:30 am. Dinner will be available Wednesday, January 2 and Friday, January 4 from 4:30 pm – 6:00 pm
Small donations can be dropped off at our office at 8 East 109th street:
Monday – Saturday 9:00 am – 6:00 pm
Sunday 2:00 pm – 6:00 pm
If you are interested in donating sandwiches please click here for more information.
Please note our volunteer opportunities will be limited on the days before and after Christmas, and New Years. For a complete list of our available opportunities and to sign up to volunteer, please visit our calendar: http://nycommonpantry.org/how-to-help/volunteer/
It's TOY TIME again and you can support the annual Larry Morales Toy Drive in 3 ways:
1. Donate Toys Online — via our Amazon Wish List.
2. Support our Crowdfunding Campaign — each $25 gift on CrowdRise will provide one child (10-12 yrs old) with a gift card.
3. Collect Toys — organize your own Toy Drive & schedule pick up online.
Toy Drive – Flyer (PDF)
NYCP's holiday toy drive is named in honor of long-time supporter Larry Morales. When Larry and his wife Doreen arrived at the Pantry in December of 1983 they saw a small tree with no more than 5 gifts under it. A group of 50 girls and boys were eagerly waiting in line.  For Larry and Doreen, this was a call to action.
The annual Morales Holiday Party was born, becoming a 30-year tradition of friends sharing holiday cheer and providing gifts for children in need. Larry Morales passed away in April of 2010 and soon after the drive was named for him. Please join us in honoring his role in providing thousands of children with holiday gifts by making a contribution to the Larry Morales Toy Drive.
For more information please contact Neill Bogan at (917)720-9707 or nbogan@nycommonpantry.org.
Meet Lisa, and Hear Her Story
Lisa's story of resilience is powerful and inspiring. This video was created by our amazing supporters the Robin Hood Foundation and includes an introduction by Oprah Winfrey.
New York Common Pantry Receives
Fourth Consecutive 4-Star Rating from Charity Navigator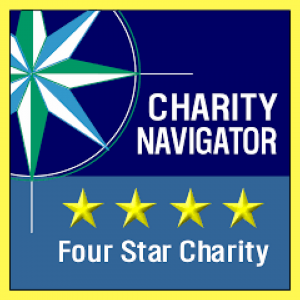 New York Common Pantry (NYCP) has received its fourth consecutive 4-Star rating from Charity Navigator. Scores are determined by analysis of financials, accountability, and transparency. Attaining a 4-star rating—the highest possible—verifies that NYCP exceeds industry standards and outperforms most charities in its area of work.
Only 12% of the charities Charity Navigator evaluates have received at least 4 consecutive 4-star evaluations, indicating that NYCP outperforms most other charities in America. This exceptional designation from Charity Navigator sets NYCP apart from its peers and demonstrates to the public its trustworthiness.