NYCP Earns Fourth Consecutive 4-star Rating from Charity Navigator!

We're excited to let you know about the Charity Navigator score recently awarded NYCP, and how it compares in our field.
NYCP has a four star ranking- the highest possible rating and a score of 99.34 out of 100.
This is an indicator that NYCP outperforms most other charities in America. See the breakdown below:
In the Social Services sub-category, NYCP is rated
1st
in New York State!
Across all categories, NYCP is ranked
7th
in all of New York state (915 agencies) and
72nd nationally
! (Out of all agencies reviewed by Charity Navigator; 7,971 in all for 2015).
It is the fourth straight year that NYCP has received a 4 star rating. A 4-star rating also indicates how efficiently NYCP uses donors' support, how well we have sustained our programs and services over time and our level of commitment to good governance, best practices and openness with information (Charity Navigator).
Click the Charity Navigator badge at the bottom of the page to see more about our ranking.
Nourish Member Highlight: Diane Spears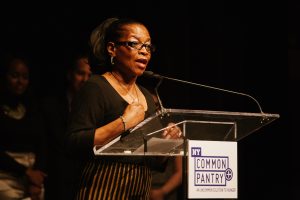 Ms. Diane Spears is a new face in the NYCP community. A resident of the Bronx and a senior citizen, she found us through our new Nourish program. Diane has a zest for life and can often be found chatting with other seniors from her community. Lately, she's been telling them about the Nourish program and encouraging them to participate.
At our most recent Fill the Bag Benefit, Diane recognized the Nourish program that has helped her to add good, quality food to her cabinet, which she considered a blessing. According to Diane, "I can tell you first hand that having the new Nourish program in the Bronx is making a real difference in our community."
Click here to learn more about Nourish and view footage from our February 2016 ribbon cutting ceremony.