Live Healthy! CS 211Garden Rebuild Project Featured on BronxNet News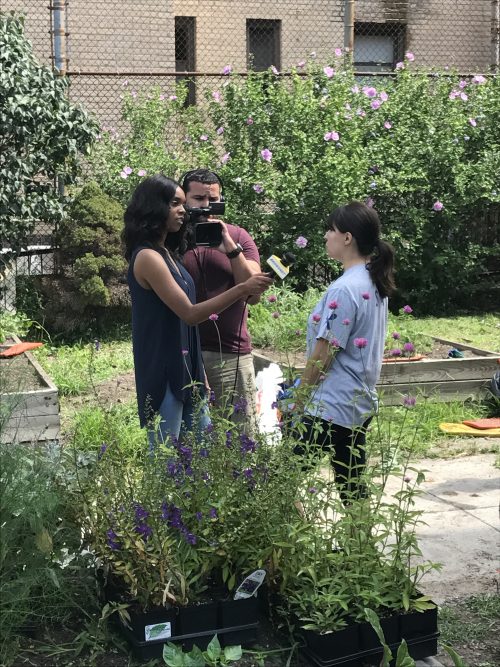 BronxNet interviews Evelyn Vela, PSE Program Manager, at the CS 211 Garden Rebuild event
Our Live Healthy! team recently achieved a major goal: Transform the largest partner school garden in the Bronx from an overgrown jungle to a fresh canvas to integrate gardening and nutrition education into the school day.
Live Healthy! (along with partners CS 211, Bronx Botanical Garden, and Grow-to-Learn) was able to replace crumbling, 10 year-old garden beds with 8 brand-new, strong beds.
CS 211's garden has vegetables, herbs, flowering native and non-native plants, a chicken coop, and a brand-new composting station. The next steps are introducing education about pollinators and installing Woolly Pockets along the fence (increasing planting square footage and improving the aesthetic quality of the garden).
The garden has already affected the students' learning experience, allowing them to apply the concepts learned in the classroom by using a hands-on approach. In the fall, 7th grade students will apply math and science skills to help build a rainwater irrigation system.
Live Healthy! is currently planning more activities to bring families together and increase opportunities for parent involvement at the school.
View BronxNet's coverage of the CS 211 Garden Rebuild project.
Watch BronxNet's Rhina Valentin's OPEN interview with Evelyn Vela, PSE Program Manager, and Live Healthy! Director Sara Bartels.
Go to our Facebook page to see photos of the CS 211 Garden Rebuild project.