Frequently Requested Services: Pantry, Breakfast, Dinner, Brown Bags, Case Management, Food Stamps, Showers & Laundry, Mail, Psychiatric Consultations, Pet Food, Tax Prep
Food Programs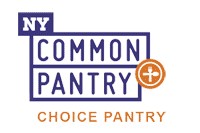 Every Wednesday, Thursday, Friday, and Saturday, our Choice Pantry Program allows its thousands of participants to choose culturally appropriate, nutritionally balanced food packages. This model empowers our Pantry members to be active participants in the distribution process by encouraging them to pick the nutritious food they would like to receive. Pantry members can order their food in advance via the Common Pantry's website or order on-site by using wireless touch-screen tablets. Volunteers pack each bag according to each Pantry member's specifications with selections in each of the major food groups. 8 East 109th Street, NY, NY 10029
Anyone who wishes to register to receive food from the Pantry can stop by the Help 365 window between 9:00am – 6:00pm Monday through Saturday and 2:00pm – 6:00pm on Sundays and holidays. They must bring photo ID for all adults in the household; ID for all children in the household, ie. Birth certificate, school letter; proof of address, ie rent receipt or lease; and proof of income and/or benefits, ie letter from employer, pay stub, award or budget letter.

Pet Food, if available, is provided on Fridays 4:00-5:00pm
Services located at 8 East 109th Street, NY, NY 10029
Choice Pantry services are available at Choice Pantry Bronx at 1290 Hoe Avenue, Ground Floor, Bronx, NY 10459 on Thursday-Saturday.  Guests may sign up for services on Tuesdays-Saturdays.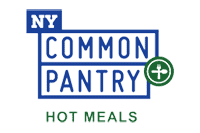 This program serves breakfast Monday through Friday and hot dinner on Mondays, Wednesdays, and Fridays. All meals are cooked on premises and our staff cooks prepare hearty balanced meals with wholesome ingredients. Beyond providing nutritious food, the program offers participants a chance to sit, eat, and socialize in a relaxing, safe, friendly atmosphere that offers a retreat from the stressors of being homeless or living in poverty.

Breakfast is served in the downstairs cafeteria from 8:00 am to 9:30 am Monday and Tuesday and from 8:00 am to 9:15 am Wednesday, Thursday, and Friday. Anyone is welcome.

Dinner is served Monday, Wednesday, and Friday in the lower level at the Common Pantry from 4:30pm-6:00pm. Anyone is welcome.
Services located at 8 East 109th Street, NY, NY 10029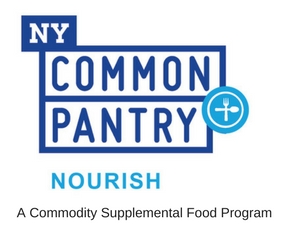 Nourish is a Commodity Supplementary Food Program funded by the USDA and NYS Department of Health. It works to improve the health of low-income elderly persons at least 60 years of age by supplementing their diets with nutritious USDA foods. These foods include cheese, non-fat dry milk, canned fruits and vegetables, canned meats and fish, breakfast cereals, fruit juices, rice, whole grain pasta, peanut butter, and dried beans. CSFP also provides guidance in preparing nutritious meals, including cooking demonstrations, nutrition and health information, and referrals to health care and social services agencies.
In order to be eligible for the Nourish CSFP Program, seniors must: a) provide proof of a New York State address b) be 60 years of age or older, and c) meet the financial eligibility guidelines (https://www.health.ny.gov/prevention/nutrition/csfp/income_guidelines.htm )
To find out if Nourish services are right for your household or your program for seniors, call 917-982-2564 or visit Nourish's Participant Enrollment site, at 423 East 138th Street in the Mott Haven section of the Bronx, Monday, Tuesday, Thursday and Friday, 9 pm – 5 pm, and Wednesday, 8 am – 5 pm.  The site is conveniently located down the block from the Brook Avenue stop on the 6 train, and provides space for seniors living nearby to enroll and receive food packages and nutrition education, as well as office and classroom space.
CSFP is an equal opportunity provider. Please see the USDA Non-Discrimination Statement at
https://www.health.ny.gov/prevention/nutrition/csfp/docs/usda_non-discrimination_statement.pdf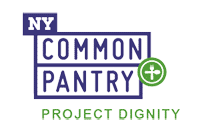 Project Dignity provides case management services to homeless individuals. Case managers offer counseling and referral services, access to benefits and entitlements, substance abuse treatment, and other medical and social services. Project Dignity's array of services is also designed to meet the most basic needs of the Common Pantry's visitors— food, haircuts, mail service, laundry—as well as the larger, more challenging issues they face—long-term housing, health care, and benefits. The goal of the program is to serve as a bridge back to health, well-being and self-sufficiency for our homeless and hungry guests.
Homeless individuals can receive case management through our Project Dignity program by visiting our Breakfast program or contacting the Project Dignity Case Manager at (917) 720-9715.

Psychiatric Consultations and Assessments
Psychiatry services are available between 10:00am and 3:00pm on Mondays. Appointments can be made for these slots Monday through Friday from 10:00am to 4:00pm in the Project Dignity Office.
Homeless individuals often have difficulty finding clean and safe places to bathe, often don't have the funds to do their laundry and find it difficult to obtain employment or benefits without a mailing address.

• Showers are available Monday through Friday between 8:30am to 1:00pm. Sign up for showers must be done before 9:30am.
• Laundry services are available Monday through Wednesday, 9:00am-1:00pm. Please note, laundry is limited to a maximum of 2 pounds per guest per visit. Sign up for laundry must be done before 9:30am.
• Mail Because it is difficult for our visitors to get a job or benefits without a mailing address, NYCP permits individuals to use the facility as their mailing address. Clients without a mailing address can come to the Project Dignity Office between 10 and 2 pm, Monday through Friday.
Services located at 8 East 109th Street, NY, NY 10029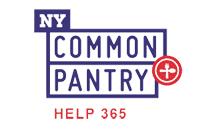 This Single Stop USA funded program is open 365 days a year to all Pantry members and provides screening by case managers to check for sufficient family income and resources. Help 365 staff assist with acquiring benefits and entitlements, such as Supplemental Nutrition Assistance Program (SNAP) and Social Security Supplemental Income; and provide assistance with accessing the other appropriate resources to prevent families from being evicted from their homes and by making employment referrals. Through unique collaborations with social service providers, Help 365 staff directly process SNAP and Medicaid applications for families on-site. Pantry members can be pre-screened for supplemental food assistance between 9:00am-6:00pm Monday through Saturday and 2:00pm-6:00pm on Sunday in the Help 365 office.

In addition, Help 365 provides ready-to-eat brown bag meals on days that there is no hot dinner. For those who cannot be enrolled in our Pantry program or do not have a residence to cook, NY Common Pantry offers Brown Bag meals through our Help 365 program. Brown bag meals containing a sandwich, snack, and drink are available at the Help 365 window on Saturdays, Sundays, and holidays from 4:00pm to 5:00pm.
Through a partnership with the Food Bank for New York City, Help 365 Mobile helps people throughout New York City access benefits.

Tax Prep: Tax prep will be available onsite beginning January and during tax season by appointment. To schedule an appointment please call 917-720-9726.
Services located at 8 East 109th Street, NY, NY 10029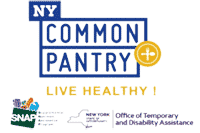 Now an Eat Smart New York program funded by the New York Office of Temporary and Disability Assistance, Live Healthy! offers free nutrition education to adults, children, and their families. Live Healthy! provides lessons on healthful eating, nutrition, and active living, including eating on a budget, smart shopping for vegetables and fruit, and basic cooking and food safety skills. Classes are held both at our main site and at community organizations around New York City. Eat Smart New York nutrition education is free to all individuals who receive resources through the Supplemental Nutrition Assistance Program (SNAP). In addition to healthy eating and active living, Live Healthy! encourages participants to embrace resiliency skills and social support to improve overall quality of life.