New York Common Pantry (NYCP) collects food throughout the year to stock the Pantry shelves.
New York Common Pantry (NYCP) is one of the largest, most reputable Emergency Food Providers (EFPs) in New York City. Over 70% of the food we provide comes from donations made by community partners!
Excess food donated by Food Rescue partners is redistributed to individuals and families in need. This food is used in either our Hot Meals program—a soup kitchen that serves free breakfast and dinner—or Choice Pantry—a food pantry that provides grocery packages to up to 2,000 families per week.
We can accept one-time donations or establish ongoing donation partnerships. Our Food Rescue drivers are available from 8:00 am – 11:00 pm daily to pick up food throughout New York City.
NYCP can provide acknowledgement letters or tax receipts for donations.To donate food, please fill out a Food Rescue Donation Form.
Food Collection in Schools
Below is our School Year calendar with monthly themes. We welcome other items, provided they meet our nutrition standards.
To schedule pick up of large donations, call Andre Thompson at (917)720-9724 or email foodrescue@nycommonpantry.org.
For questions about donating food or starting a Food Drive for NYCP, call our Volunteer Line at (917)720-9710 or email volunteer@nycommonpantry.org.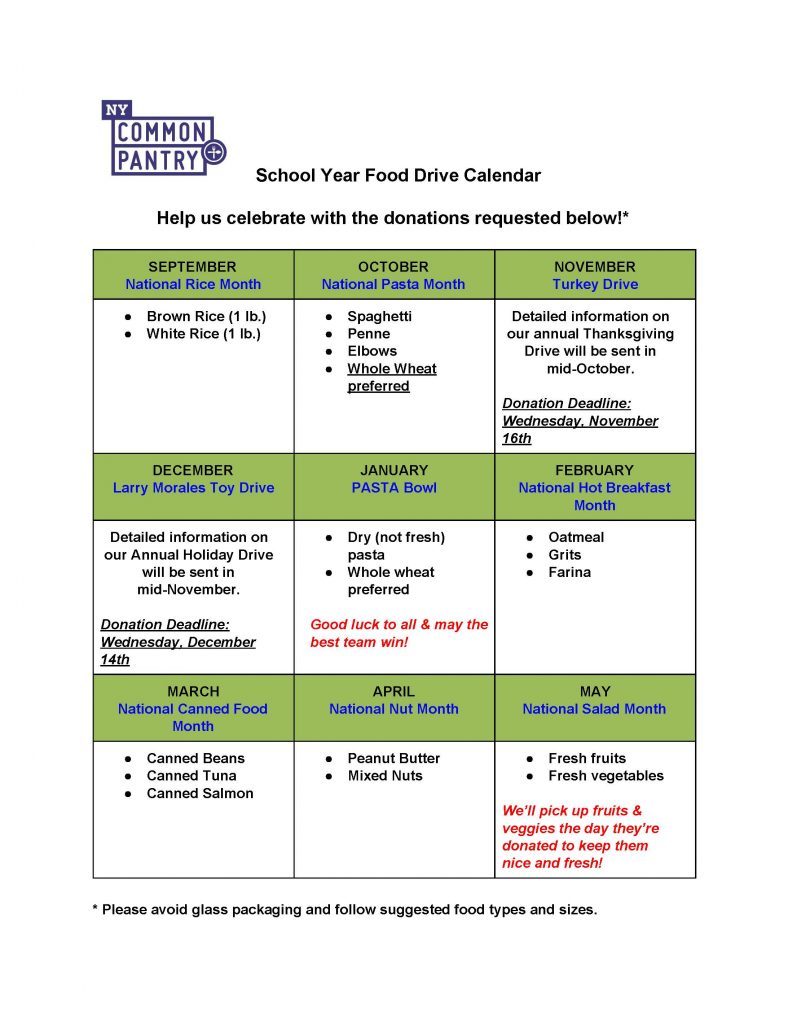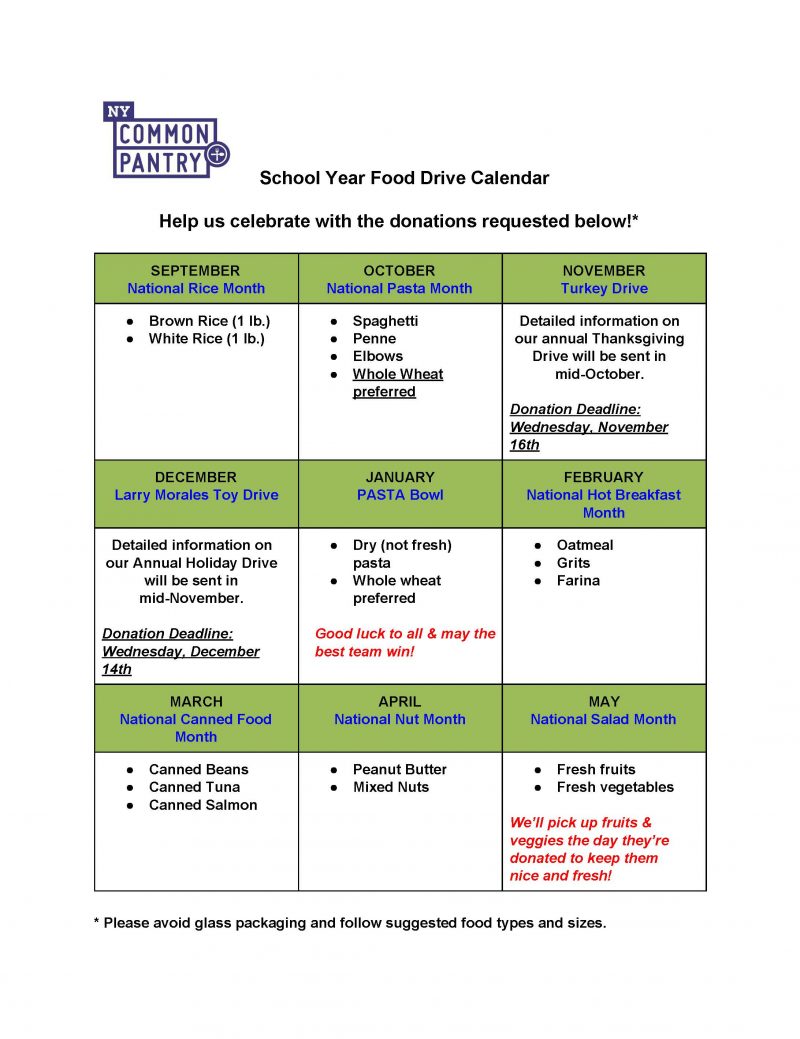 Make Sandwiches
One of the easiest ways to volunteer is to make sandwiches for our Brown Bag program through Help 365 and bring them to the service window Thursday through Saturday from 9:00am to 6:00pm or Sunday 2:00pm to 6:00 PM.  Sandwiches can be any kind but must be sealed individually (preferably in zip-lock bags).  We can generally accept 1-200 sandwiches.  To ensure that we are providing fresh sandwiches that are up to all health and food safety standards, anyone preparing sandwiches must wear gloves and hats or hairnets with their hair pulled back.
2018 PASTA Bowl — January 3rd – February 14th
Be a part of the tradition… for the win or just for fun!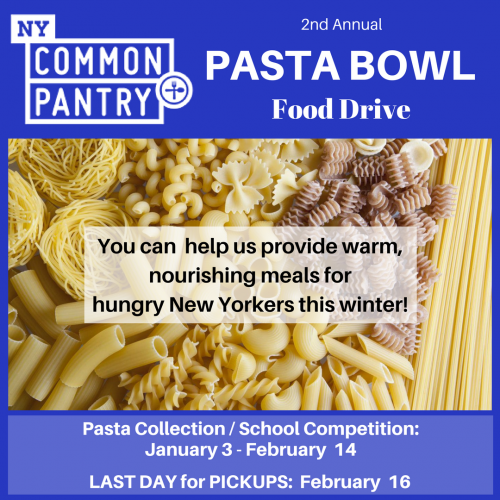 Two ways to get in on the BOWL:
1. Collect PASTA for NYCP
Set up a drive & schedule pickup: PASTA BOWL Pick up Form

2. Help NYCP purchase PASTA
Make a Donation in any amount: $1 = 1 lb of pasta
Questions? Email: PastaBowl@nycommonpantry.org
Toy Drive
In honor of a long-time supporter, New York Common Pantry has named its holiday toy drive the Larry Morales Toy Drive.  When Larry and his wife Doreen (a dedicated NYCP Board Member), first walked into the Pantry in December of 1983 they noticed a small tree with 3-4 gifts underneath while a group of 50 boys and girls eagerly lined up for a gift.  For Larry and Doreen, this was a call to action.
What followed was a 30-year tradition; the Morales Annual Holiday Party where friends were invited to come share in some holiday cheer and provide 2 or 3 gifts for the children in need at the Common Pantry.  Larry Morales passed away in April of 2010 and to honor his role in helping provide thousands of children with holiday gifts, we ask you to contribute to the Larry Morales Toy Drive.
For more information and to schedule a pick up please contact Neill Bogan at (917)720-9707 or
nbogan@nycommonpantry.org.  The final day for pick-up is Wednesday, December 14th, 2016.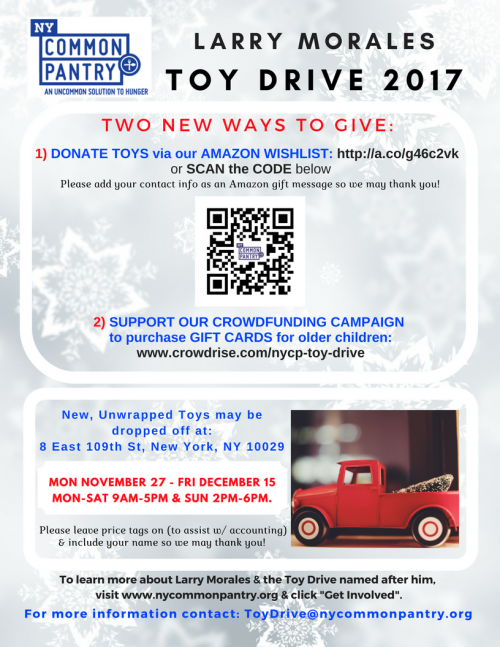 Turkey Drive
The annual Turkey Drive starts in late August and continues until Thanksgiving.  Contact Neill Bogan at (917)720-9707, or at nbogan@nycommonpantry.org for more information about how to make a monetary donation.
For Holiday Food donations, email: foodrescue@nycommonpantry.org