Frequently Requested Services
Pantry, Breakfast, Dinner, Brown Bags, Case Management, Food Stamps, Showers & Laundry, Mail, Psychiatric Consultations, Pet Food, Tax Prep
We have taken steps to reduce the impact of the Novel Coronavirus on our staff, participants and volunteers. Please see current program changes, these are all subject to change as we get more information:
Hot Meals program:
Monday – Friday at 2:30 PM
All Hot Meals will be take-away
Brown Bag lunches will be given out on Saturday and Sunday at 4-5PM
Pantry
No on-line ordering. 
8 East 109th Street- Wednesday- Saturday, 10AM-2:30PM
1290 Hoe Avenue- Thursday and Friday 10AM-2PM,
Saturday – 10 AM – 2 PM
FOOD PROGRAMS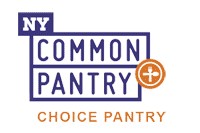 Our Choice Pantry Programs offers fresh, culturally appropriate and nutritious food free to participants who qualify.
Pantry packages are supplemental grocery packages in five food categories: protein, dairy, grains, fruits and vegetables, proportional to the number of individuals in the family and provided every two weeks. Anyone who wishes to register to receive food from the Pantry can stop by the Help 365 office in either East Harlem or the Bronx (see Help 365 hours in Social Services section). They must bring photo ID for all adults in the household, ID for all children in the household, e.g., birth certificate, school letter, and proof of address, e.g., rent receipt or lease.
We have two Choice Pantry programs, one in East Harlem and one in the Bronx.
8 East 109th Street, East Harlem Location
Wednesday – Saturday 10:00am – 2:30pm for on-site ordering and pick-ups.
Wednesday – Saturday 10:00am – 3:30pm for online order pick ups. 
Fridays 4:00-5:00pm pick up pet food, when available.
*Pet food is provided 7 days a week upon availability
Manhattan: To register for Choice Pantry and to receive an emergency grocery bag, visit us Monday – Friday 9am-5pm; Saturday 9am-6pm; Sunday 2pm-6pm

1290 Hoe Avenue, Bronx Location
Thursday – Saturday 10:00am – 2:30 pm for on-site ordering and pick-ups.
Thursday – Saturday 10:00am – 3:30pm for online order pick ups.
Both Pantry programs follow a digital choice pantry model, that is, members choose from a touch screen tablet on-site, or on-line the evening before, what goes into their grocery bags.  This model empowers Pantry members to be active participants in the distribution process by encouraging them to pick the nutritious food they would like to receive.
Bronx: To register for Choice Pantry and to receive an emergency grocery bag, visit us Tuesday – Saturday 8am-4pm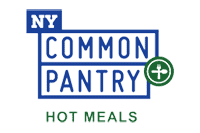 Our Hot Meals Program provides hot, nutritionally balanced meals to our breakfast and dinner guests. Everyone is welcome.
Location: 8 East 109th Street, East Harlem
Breakfast: Monday – Friday 8:00am – 9:15am
Dinner: Mondays, Wednesdays, Fridays 4:30pm – 6:00pm
All meals are cooked on the premises. Beyond providing nutritious food, the program offers participants a chance to sit, eat, and socialize in a relaxing, safe, friendly atmosphere that offers a retreat from the stressors of being homeless or living in poverty. 
The meal program also works with Help 365 to provide Brown Bag meals – a sandwich, snack and beverage on Saturdays, Sundays and holidays when the hot meal program is not operating.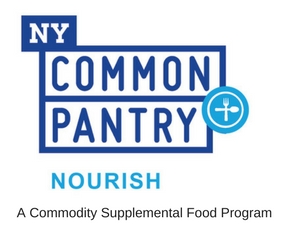 Nourish, our Senior Nutrition Program, provides supplemental food for over 15,000 eligible seniors per month at over 90 sites located in Manhattan, Bronx, Queens and Brooklyn.
To sign up for the Nourish program, visit either our Manhattan or Bronx locations:
Nourish Manhattan
8 East 109th Street
Monday – Friday 9:00am – 6:00pm
Saturday: 9:00am – 5:00pm
Sunday: 2:00pm – 6:00pm
Nourish Bronx
423 East 138th Street
Monday – Friday: 9:00am – 5:00pm
Seniors can also sign up for the program at any mobile site.
To be eligible, seniors need to be 60-years-old or older, have a New York state address and meet financial eligibility requirement. Most seniors who qualify for SNAP will be eligible for Nourish. Once a senior is signed up, they can pick up a food package on a monthly basis. These packages include cheese, non-fat dry milk, canned fruits and vegetables, canned meats and fish, breakfast cereals, fruit juices, rice, whole grain pasta, peanut butter, and dried beans.
Nourish also provides guidance in preparing nutritious meals, including cooking demonstrations, nutrition and health information, and referrals to health care and social services agencies.
Nourish is a Commodity Supplementary Food Program funded by the USDA and NYS Department of Health. CSFP is an equal opportunity provider. Please see the USDA Non-Discrimination Statement at https://www.health.ny.gov/prevention/nutrition/csfp/docs/usda_non-discrimination_statement.pdf
CASE MANAGEMENT PROGRAMS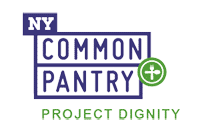 Project Dignity provides case management and hygiene services to homeless individuals.
Location: 8 East 109th Street, East Harlem 
 
Case Management: 
Monday – Friday: 8:00am – 4:00pm
Case managers offer access to benefits and entitlements, assistance in obtaining birth certificates and state id's, as well as referral services including substance abuse treatment, medical services, shelter, and other services. 
 
Psychiatry Services:
Mondays: 10:00am – 3:00pm
Appointments for psychiatry services made Monday – Friday: 10:00am – 4:00pm at the Project Dignity Office
 
Showers:
Monday – Friday: 8:30am – 1:00pm
Sign up for showers must be done before 9:30am.
 
Laundry:
Monday – Wednesday: 9:00am – 1:00pm
Laundry is limited to 2lbs per guest per visit. Sign up for laundry must be done before 9:30am.
 
Haircuts:
Wednesdays: 9:30am – 12:30pm
Sign up for haircuts must be done by 9:00am. First come, first served.
 
Mail Service:
Monday – Friday: 10:00am – 4:00pm
Sign up at the Project Dignity Office. 
 
Project Dignity's array of services is designed to meet the most basic needs of our visitors – food, haircuts, mail service, laundry – as well as the larger, more challenging issues they face – stable housing and health care benefits. The goal of the program is to serve as a bridge back to health, well-being and self-sufficiency for our homeless and hungry guests.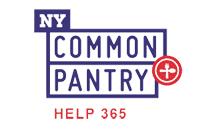 Consisting of Help 365 Manhattan, Help 365 Bronx and Help 365 Mobile, the NYCP Social Services Department helps our guests achieve stability and access to entitled benefits 365 days a year.
Help 365 Manhattan
8 East 109th Street
Monday – Friday 9:00am – 6:00pm
Saturday: 9:00am – 5:00pm
Sunday: 2:00pm – 6:00pm
Help 365 Bronx
1290 Hoe Avenue
Tuesday – Saturday: 9:00am – 5:00pm
Help 365 offices in both locations are the point of entry for all new and existing choice pantry members. (See Choice Pantry programs for documents required.) All first time registrants will receive an emergency bag of food, appropriate for the family size, at the first visit.
Help 365 case management staff also provide benefit screenings to assist with acquiring benefits and entitlements, such as Supplemental Nutrition Assistance Program (SNAP) and Social Security Supplemental Income, and provides assistance with accessing other appropriate resources to prevent families from being evicted from their homes and by making employment referrals. Through unique collaborations with social service providers, Help 365 staff directly process SNAP and Medicaid applications for families on-site. Help 365 also provides referrals for on-site financial counseling, legal services and off site tax preparation.
Help 365 Mobile
Monday – Friday: 9:00am – 5:00pm at various community sites
Help 365 Mobile team travels to 40 sites throughout New York City to help people in Manhattan, Bronx, Queens and Brooklyn access benefits.
Our Help 365 Mobile team partners with community agencies to provide SNAP information and screening to eligible participants, as well as following through with submitted applications to ensure proper determinations.
NUTRITION EDUCATION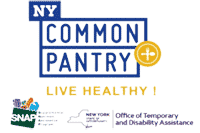 The Live Healthy! Program offers direct education and policy, and systems and environments programming services for underserved, high-need SNAP recipients and SNAP eligible populations at risk for food insecurity.
The program activities provide behaviorally-focused nutrition education and obesity prevention activities for adults and children through single and series workshops in a variety of settings such as schools, community centers, senior centers, food pantries, community colleges and health settings. Live Healthy! works with a variety of groups to establish policy, systems, and environments changes that bolster initiatives aimed at creating healthier neighborhoods, including distribution of CSA (community supported agriculture) shares and Food MD, a fruit and vegetable prescription program.
Live Healthy! is funded by a SNAP-Ed federally funded/state administered grant and serves New Yorkers across all boroughs, primarily focused on high need neighborhoods in the South Bronx and Upper Manhattan.