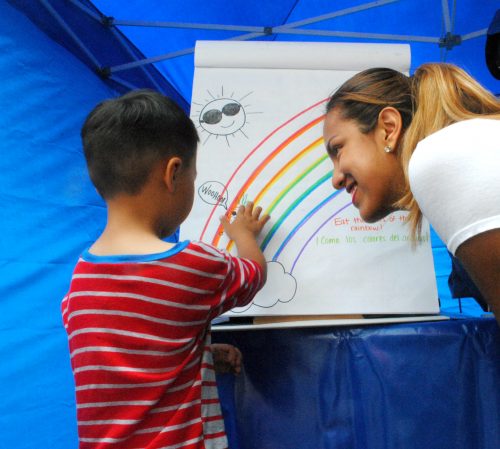 New York Common Pantry is excited and proud to announce our FIRST EVER crowdfunding campaign! The LIVE HEALTHY! program is raising $5000 to purchase Health Bucks, $2 coupons that can be used to purchase fresh produce at Greenmarkets, for their nutrition workshop participants at the Lincoln Hospital Greenmarket in the South Bronx.
For the second year in a row, Live Healthy! has partnered with GrowNYC to provide nutrition and culinary workshops at the Lincoln Hospital Greenmarket in the South Bronx every Tuesday and Friday from mid-July through the end of October. Last year they found that these Health Bucks were incredibly valuable for their attendees who felt encouraged to cook with more fresh produce after sampling our recipe of the week, but lacked the financial ability to purchase a new food item.
By increasing purchasing power with these Health Bucks, they were able to empower people to help increase their family's fruit and vegetable intake as well as increase business for the local farmers at the market. At NY Common Pantry, this touches upon three of our core principles: options, access and health. We believe in reducing hunger and food insecurity through a whole-person approach that includes not just nutritious, fresh food pantry packages (which our members do receive!), but also through empowering community members and increasing access by connecting them to resources, as well as educating on the importance of a nutritionally sound diet and active living in order to make healthier choices for their families through the Live Healthy! program.
Please help us make this a reality by donating here: 
https://www.ioby.org/project/invest-health-help-fund-access-fresh-produce-south-bronx